This is easily the most DECADENT Dark Chocolate I've ever tasted. The thing that is so incredible to me is that I get to intensely enjoy one or two of these tall glasses of chocolate awesomeness every day which takes care of my sweet tooth and does an enormous amount to help me feel my best every day. Life is wonderful!
Dark Chocolate "O" Decadence Shakeology
1 scoop Chocolate
Shakeology
(usually for Breakfast)
1/5 cup frozen blueberries OR Strawberries (I go by site I don't actually measure this)
2 ice cubes (place in blender or beaker before water)
10 oz of cold water (You control how chocolaty you want it with the amount of water you add so play with that)
Optional:
Shakeology Boost: The Fiber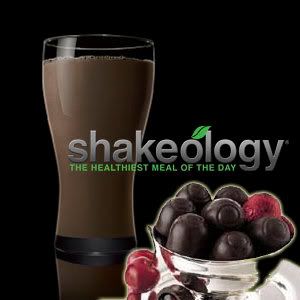 Or Try 1/2 serving of Shakeology Twice a Day instead of 1 Full Serving once a Day and make Shakeology pay for itself twice! My users save between $200 and $500 a month in groceries while paying only $90 for Shakeology with the 25% discounts. (Ask me how if you're interested)
Blend and Enjoy! (If you'd rather a milk chocolate than a dark chocolate use milk instead of water)
My first thought at first taste was "mmmm VERY Refreshingly Delicious! This is Chocolate "O"!!!. The frozen blueberries OR strawberries and chocolate compliment each other so unbelievable well in a refreshing even invigorating way. As with any Shakeology recipe you can optionally add
Shakeology Boost
to get even more fiber in your diet and you can optionally add Mills Ground Flaxseed to get more healthy fats in your diet. If you don't already have shakeolgoy, either GreenBerry or Chocolate, you can get it at
Heaven In A Glass
. Order Home Direct and get free shipping for life plus two free workouts, a recipe calendar, and a shaker cup.
Genuinely Enjoy :)
Tom